Write to your Congressman and Senators NOW and tell them to Support H.R. 6!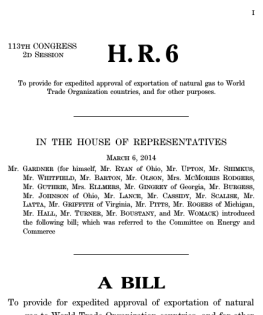 This Wednesday (4/30/2014) a bill that would force the government to allow the export of American liquefied natural gas (LNG) to Europe and third world countries will be marked-up in the House Energy and Commerce Committee. The bill is the The Domestic Prosperity and Global Freedom Act, H.R. 6, and we should all support it right now. (Text of the bill can be found here.)

Please contact your Congressman and Senators and ask them to support this critical bill.
**As soon as you complete the information on this page you will be taken to a draft letter which you should feel free to edit and make your own or you may leave it the way it is.**
Post Public Comments
Public Comments (709)
Aug 6th, 2014
Marilyn F. from Mount Laurel, NJ signed.
Jun 21st, 2014
David H. from Fredericksburg, TX signed.
Jun 1st, 2014
Jeffery and Rhonda H. from Topeka, KS signed.
May 21st, 2014
ALFRED N. from New York, NY writes:
YO, PASS THIS BILL NOW OR WE WIL PASS U OUT OF THE W.H. IN 2014 PERIOD! AL&VETS
May 19th, 2014
Nadine M. from Greenville, ME signed.
May 13th, 2014
richard s. from Richardson, TX signed.
May 13th, 2014
John H. from Harpster, OH signed.
May 9th, 2014
Elliott H. from Manchester, NH signed.
May 8th, 2014
Someone from Linden, TN signed.
May 5th, 2014
EDWARD M. from Pittsburgh, PA signed.