Tell your GOP Senators to Defend the First Amendment!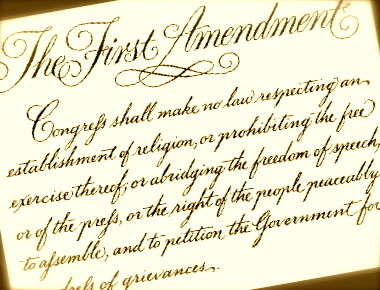 We need your voice before it is silenced by Harry Reid. We need to call on ALL Senate Republicans to go to the floor and defend the First Amendment and free speech. The assault by the Senate majority leader is un-American and dangerous to our democracy.
At 4:25 PM TODAY (Tuesday, Sept. 9), Senator Ted Cruz will be speaking. Ask your Republican Senator to support the effort. Please make sure Senator Cruz doesn't stand alone.
Write to your Republican Senators NOW and urge them to make sure Senator Cruz doesn't stand alone.

*As soon as you complete the information on this page you will be taken to a draft letter which you should feel free to edit and make your own or you may leave it the way it is.**
Post Public Comments
Public Comments (684)
Sep 3rd, 2017
David T. from Winter Park, FL signed.
Aug 20th, 2016
ROGER M. from Stow, OH writes:
free speech is always going to offend. but everybody as a right to free speech.
May 12th, 2016
Robert K. from Orlando, FL writes:
PLEASE PROTECT THE FIRST AMENDMENT!!!
May 12th, 2016
Robert K. from Orlando, FL signed.
Apr 4th, 2016
art p. from Morrisville, PA writes:
I CAN'T BELIEVE I AM SENDING THIS EMAIL…. THIS SHOULD NOT EVEN BE AN ISSUE , IN AMERICA ….. DO YOU PEOPLE KNOW AND READ THE CONSTITUTION…….. HARRY REID IS A COMMIE AND ANYONE THAT WON'T FIGHT HIM ON THIS SHOULD NOT BE IN POLITICS.
Feb 11th, 2016
Carlos L. from Miami, FL signed.
Nov 20th, 2014
Someone from Pittsboro, IN writes:
Any Senator who stands with Harry Reid's assault on our First Amendment is not fit to serve in Congress!
Oct 19th, 2014
Gemi n. from Valley Center, CA signed.
Oct 18th, 2014
Linda S. from Whippany, NJ writes:
It was the Judeo-Christian freedom of faith that built this great nation and it should not be hindered in any way from sustaining the United States of America, else they shall not be united.
Sep 28th, 2014
Someone from Summerville, SC writes:
I strongly urge you to support Senator Ted Cruz in defending the First Amendment. The only thing that needs to be silenced here is DirtyHarry Reid!