Petition your Representative and Senators to Support H.R. 351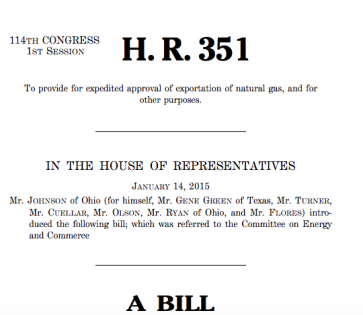 This Tuesday (1/27/2015) a bill that would force the Energy Department to make a final decision on applications to build new liquefied natural gas (LNG) export terminals within 30 days of the final environmental review will be on the House floor for a vote. This will put a stop to long bureaucratic delays. The bill is the LNG Permitting and Transparency Act, H.R. 351, and we should all support it right now. (Text of the bill can be found here.)
Please petition your Congressman and Senators and ask them to support this critical bill.
**As soon as you complete the information on this page you will be taken to a draft letter which you should feel free to edit and make your own or you may leave it the way it is.**
Post Public Comments
Public Comments (301)
Jun 28th, 2016
Jeff C. from Glendale, AZ signed.
Jun 28th, 2016
Jeff C. from Catheys Valley, CA signed.
Apr 4th, 2016
art p. from Morrisville, PA writes:
OPEN our economy , don't strangle it anymore…..fossil fuel included...
Feb 12th, 2016
Richard F. from San Diego, CA writes:
It's time to end this attack on fossil fuels, as our European allies could use our help with energy.
Oct 26th, 2015
Roland D. from Quincy, FL signed.
Jun 13th, 2015
Steven P. from West Chester, PA signed.
Apr 24th, 2015
Betty S. from Miami, FL signed.
Mar 5th, 2015
Linda B. from Aurora, OH signed.
Feb 16th, 2015
John H. from Harpster, OH signed.
Feb 9th, 2015
Clifford D. from Crystal Lake, IL signed.